An Update From County Executive Alsobrooks
Dear Prince Georgians:
February is Black History Month, and we want to take some time to recognize the historic importance of this month in 2021. The national theme for Black History Month, "The Black Family: Representation, Identity, and Diversity," represents the African diaspora, and the spread of Black families across the nation.
Over the past year, our community and our nation have grappled with instances of inequality. Black and brown communities have suffered the greatest risk for severe illness and deaths related to COVID-19 as a result of disparities in our healthcare system, and this past year shows that there is still much work to be done.
Black History Month gives us an opportunity to reflect on the progress that we have made through centuries of struggle and perseverance, while also recognizing and celebrating our rich history. It also gives us an opportunity to commit ourselves to continuing to build a brighter and more equitable future for generations to come.
I am Prince George's Proud that our County has a number of resources and events prepared for this month to help us reflect on and safely celebrate Black history during Black History Month. Below, you will find information from a variety of County agencies and organizations detailing these resources and events. I hope everyone will take some time to attend at least one of these events as we celebrate Black history and commit ourselves to the work ahead.
Happy Black History Month to all, and please remember to continue to keep each other safe by wearing masks and staying at least six feet apart when out in public.
Yours in service,
Angela Alsobrooks

Prince George's County Executive
---
Covid-19 Updates
Stand Up & Deliver
We are continuing to work hard to address food insecurity in our County, and we want to provide information on upcoming distribution locations for our Stand Up & Deliver program.
Friday, February 19 at 2:30 PM (Groceries/Meals)
Beltsville Seventh-Day Adventist Church – 4220 Ammendale Road, Beltsville, MD
St. Paul Church – 6419 Marlboro Pike, Forestville, MD
Faith Temple No. 2 Free Will Baptist Church – 211 Maryland Park Drive, Capitol Heights, MD
Saturday, February 20 at 10:00 AM (Groceries)
Kingdom Fellowship at Hight Point High School – 3601 Powder Mill Road, Beltsville, MD
New Home Baptist Church – 8320 Landover Road, Landover, MD
United Baptist Church – 7701 Riverdale Road, New Carrollton, MD
Additional food distribution locations can be found on our website. This map is updated regularly. If you are able to make a contribution to our Stand Up & Deliver program, please click here to donate.
---
Listen to the Latest COVID-19
Vaccine Tele-Town Hall
On Saturday, February 13, 2021, County Executive Angela Alsobrooks held a Tele-Town Hall to provide the latest updates on COVID-19 vaccinations in Prince George's County.
---
COVID-19 Vaccine Discussion with Dr. Fauci
On Monday, February 8, 2021, County Executive Alsobrooks hosted a COVID-19 vaccine discussion with Dr. Anthony Fauci, the nation's leading infectious disease scientist and Director of the National Institute of Allergy and Infectious Diseases, to dispel rumors about COVID-19 vaccines and address the issue of vaccine hesitancy. Dr. Fauci was joined by County Health Officer Dr. Ernest Carter, and Senior Vice President and Chief Medical Officer of University of Maryland Capital Region Health, Dr. Joseph Wright. For the full conversation with Dr. Fauci, click here.
---
COVID-19 Vaccine Sites:
Inclement Weather Policy
While we are excited for warmer weather this spring, we are still in the midst of winter and face the threat of inclement weather. We want to remind residents that appointments at the County Health Department's vaccination clinics may be cancelled due to inclement weather. In the event of inclement weather, please remember to check to make sure our vaccination clinics are open before arriving for a scheduled appointment. Updates will be communicated in several ways, including on our vaccine webpage at mypgc.us/COVIDVaccine.
---
Face Coverings Required During Tennis Play
Face coverings are now required when playing tennis at M-NCPPC, Department of Parks and Recreation facilities. Face coverings must remain in place and cover both the nose and mouth to be considered effective. For more information, visit http://www.pgparks.com/1209/Tennis.
---
County News For You
Sidewalk Snow and Ice Removal Inspection Program Mandates Timely Clearing of
Snow and Ice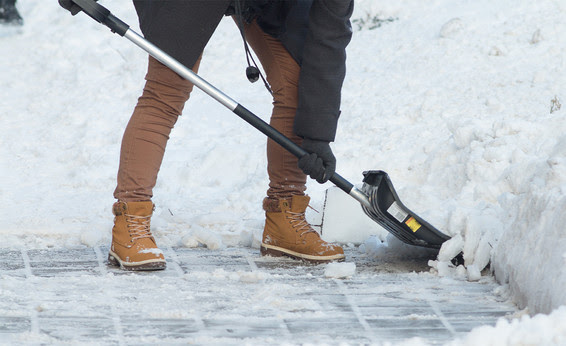 The Prince George's County Department of Permitting, Inspections, and Enforcement (DPIE) requires the prompt clearing of snow and ice from sidewalks after snow events. Owners, tenants and managers of residential and commercial properties with paved sidewalks adjacent to their properties are responsible for removal of snow and ice. Responsible parties who fail to clear sidewalks abutting their property within 24 hours of the end of a major snow event will be issued a reminder notice by DPIE. After another 24-hour period, a citation that carries a fine of $100 may be issued. Additional citations may be issued for subsequent 24-hour periods. If the snow and ice are not removed in a timely manner, the County may hire a contractor to clear it and add the costs to the fines.  More information
---
PGCMLS Celebrates Black History Month
Prince George's County Memorial Library System (PGCMLS) is celebrating Black History Month with a lineup of virtual events for all ages. Live Virtual Read-Aloud events take place weekly on Mondays (English), Wednesdays (Bilingual), and Fridays (ASL) at 10:00 AM. The Library's Black Heritage web page includes resources, books, and educational content for students, book lovers, and lifelong learners.
---
Parks & Rec Celebrates Black History Month
Celebrate and honor African American heritage during Black History Month in February. From performances to history lessons to festivals, there are plenty of exciting M-NCPPC, Department of Parks and Recreation events planned this year. Due to the ongoing COVID-19 restrictions, ALL programs will be held virtually. For more information, go to blackhistory.pgparks.com.
In addition, the M-NCPPC, Department of Parks and Recreation is hosting its Black History in Motion concert virtually. Join the Department for a free concert journey through the American experience recognizing the contributions of African Americans to U.S. history and culture. Enjoy the sounds of The Tribe Band performing music including soul, R&B, blues, jazz and inspirational. You can listen to the concert at your leisure here.
---
Commission for Fathers, Men & Boys
Celebrate Black Excellence
On Thursday, February 18, 2021, the Prince George's County Commission for Fathers, Men and Boys invites members of the community to participate in an enlightening evening which will feature guest speaker Percy White from findfamilyroots.com who will share information about Black history. More information here
---
The Office of Community Relations Coordinates Donation of 20 Miles of Elastic Band
The Office of Community Relations (OCR) is dedicated to connecting people and connecting resources. Right now, connecting with the community has never been so important. OCR recently put their purpose into action by connecting a proud Prince Georgian with an organization dedicated to sewing one million face coverings to protect community members on the frontline. Thanks to the generosity and kindness of one County resident, 353 spools of elastic band were donated to the Million Mask Challenge to make ear straps for face coverings. Each spool contained 100 yards of elastic bands, equating to 20 miles of elastic band. Million Mask Challenge volunteers will sew hundreds of face coverings, using the elastic bands to help our community and save lives.
---
Employ Prince George's Programs
Navigate the Federal Hiring Process
Learn how to navigate the federal hiring process, find and apply for federal jobs and create a federal resume. Participants will also learn how to utilize USAJobs.gov and view vacancy announcements during this free workshop. Hear from Disabled Veterans Outreach Program Specialists, Shirley Garner and Timothy Walter, every fourth Tuesday and Wednesday of each month from 10:00 AM to 12:00 PM. Join the zoom meeting here.  
Career Readiness Workshops
The following is a list of Employ Prince George's Education, Training and Assessments Department Career Readiness Workshops:
Resumes That Represent – Tuesdays, 10:00 AM – 11:30 AM
Interviews That Impress – Wednesdays, 10:00 AM – 11:30 AM
Soft Skills That Sell – Thursdays, 10:00 AM – 11:30 AM
To register, visit www.employpgedge.com, create an account and click 'Live Meetings.'
Free Certified CAN/GNA Training Program
Employ Prince George's, Inc. has announced a free Certified and Geriatric Nursing Assistant Training program for English Language Learners residing in the Riverdale area. The program, offered by the Capital Area Healthcare Alliance, will provide eligible Prince George's County residents with free training to gain employment in the CNA and GNA career field. Participants must attend one information session before joining the program. For more information, call 301-618-8430 or email WSD@co.pg.md.us. To register for the training program, click here.
Inquire Within Coaching Services
The Inquire Within Coaching Services is a series of virtual workshops, launched by the American Job Center, that helps attendees build confidence and identify skills to help them navigate through changes. Attendees will learn to adjust their mindsets and reframe their circumstances in efforts to build confidence in their potential for achievement. For more information, click here.
Dealer School Training Program
The Hospitality and Accommodation Institute is offering a Dealer School Training Program through Prince George's Community College, for eligible County residents to receive free training to gain employment in the gaming and casino industry. MGM National Harbor will guarantee interviews or auditions to participants who complete the program. For more information, call 301-618-8425 or email WSD@co.pg.md.us.
---
Love Your Heart During American Heart Month
American Heart Month is celebrated each February, but this year we are mindful of COVID-19 and the challenges the pandemic presents for our health and well-being. Join the Health Department on Wednesday, February 24, 2021, from 6:00 PM to 7:30 PM, for a FREE virtual Dine, Learn & Move program. The next session will include a gentle flow yoga demonstration before hearing from cardiologist Dr. Sheila Woodhouse of University of Maryland Capital Region Health. Dr. Woodhouse will guide participants through strategies to keep hearts healthy in this environment of increased risk. To register, email wellnessInfo@co.pg.md.us. All ages are welcome.
Dine, Learn & Move is FREE and presented to you in partnership with Prince George's County Health Department, Suburban Hospital, University of Maryland Capital Region Health, and M-NCPPC, Department of Parks and Recreation, Prince George's County.
---
Free Tax Preparation
Get help with your taxes. Individuals who made $57,000 or less in 2020 may qualify for free tax preparation through the Cash Campaign of Maryland, an IRS program that helps prepare and electronically file your federal and state income taxes for free. Learn more by visiting https://cashmd.org/ or call 800-492-0618.
---
Spotlight On Prince George's
Chase Young Named
NFL Defensive Rookie of the Year
Congratulations to Prince George's County's own Chase Young on being named the NFL's 2020 Defensive Rookie of the Year! Young is the first rookie in NFL history and third player in NFL history to record a fumble return touchdown, forced fumble, fumble recovery, sack and two-plus passes defensed in a single game. The Upper Marlboro native and 2016 All Metropolitan Defensive Player of the Year (DeMatha Catholic High School) was the second overall pick in the 2020 NFL Draft, and helped the Washington Football Team finish as the division leader in the NFC East. We are certainly Prince George's Proud of Chase Young!
---
Cross Family Inducted Into Maryland
Agriculture Hall of Fame
(Credit: Edwin Remsberg)
Congratulations to the Cross family of Prince George's County, who were recently inducted into the Maryland Agriculture Hall of Fame! The Cross family has kept their business running throughout the COVID-19 pandemic, putting in safety measures and expanding delivery options like curbside pickup. Their store, R&D Cross in Brandywine, has been able to continue operations providing supplies to gardeners, farmers and animal owners during these unprecedented times. Click here to learn more.
---
Beyond Books: PGCLMS Virtual Programming Featured in Washington Post
(Credit: Pete Reynolds/for The Washington Post)
Recently, the Prince George's County Memorial Library System's virtual programming was featured in the Washington Post. We are Prince George's Proud our County library system continues to provide engaging programming for residents of all ages. Read the full article.